Multifunctional machine tool CORMAK CM250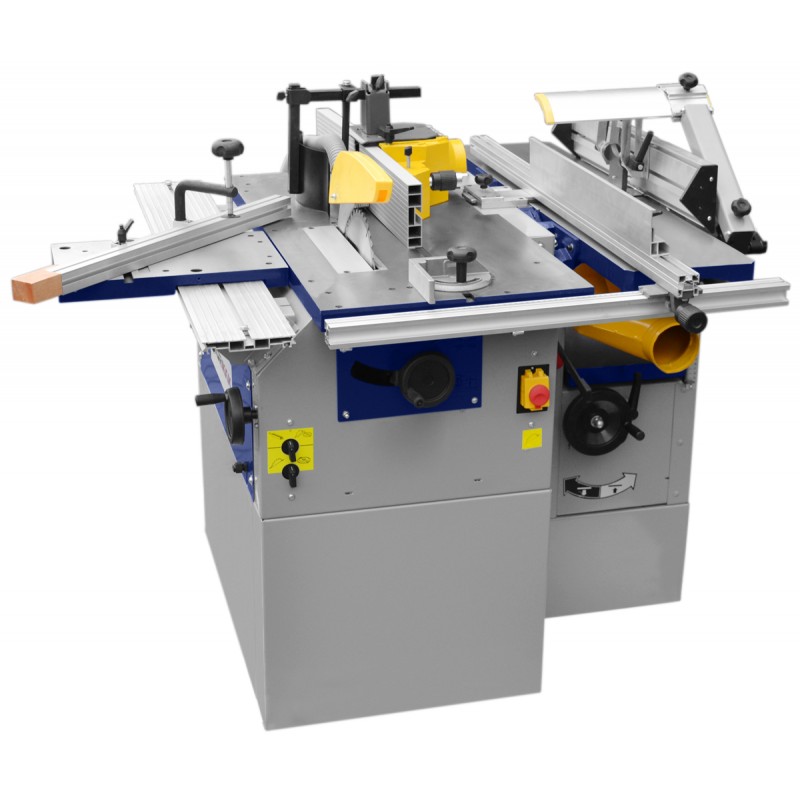  
A multifunctional machine for wood working is an ideal integration of a planing machine, a circular sawing machine, a milling machine and a thicknessing machine, securing a broad range of possibilities. Applying of 3 motors mounted on a robust, solid and compact construction secures comfort and failure-free work.

DTR


instrucja
po polsku
Wysyłka
nawet w


24h

Gwarancja


12/24


miesięcy
Dostawa
Gratis
CIRCULAR SAWING MACHINE with a tilt spindle enables cutting-off high density boards, MDF boards, ABS and PVC panels, solid wood and other wood-based materials.

PLANING MACHINE - THICKNESSER. Three knives rotating at a speed of 4000 rpm enable obtaining of very smooth surfaces and controlled strip enables angular planing. During use of the thicknessing machine the work tables can be dismantled.

MILLING MACHINE. A moved out spindle 30 mm rotates at a speed of 6500 rpm. In the guard upper side a mechanism supporting the worked material is installed.
Standard equipment:
a 30 mm spindle;
a 215 x 30 disk;
the work table widening;
a worked element side and upper clamp;
milling limiter precision setting;
an attachment for arc milling;
an angular limiter;
TOD in Polish language;
EC Declaration.

Technical data:

Circular sawing machine/dimension saw
Table dimensions (mm)
940 x 410
Max. saw dimension (mm)
215 x 30
Motor power (kW)
1,1
Planing machine/thicknessing machine
Planing width (mm)
250
Thicknesser max. (mm)
250 x 160
Motor power (kW)
2
Milling machine
Spindle diameter (mm)
30
Max. mill diameter (mm)
150
Rotational speed (rpm)
6500
Motor power (kW)
1,4
General data
Power supply
230V
Weight (kg)
290
Guarantee (months)
12
Instruction (TOD)
in Polish language
EC Declaration
yes
Are you interested in this product?
Contact with us
Nasi kosultanci są dostępni 24/7

3 other products in the same category: